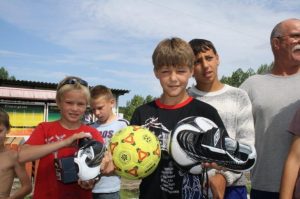 During Socks For Siberia's trip to Siberia in June of 2009, we visited the Minusinsk Children's home to meet their children and staff and determine what their current needs were. Sergei, the soccer coach of the Children's home had a humble and simple request. He asked for soccer cleats, socks and shin guards so that the children could participate in local soccer tournaments. Many of the boys had only flip flops, sneakers, or ill-fitting boots for footwear and were not previously allowed to play without proper equipment. With your help, Socks For Siberia purchased cleats, socks and shin guards as well as soccer balls for the soccer program, in addition to other items.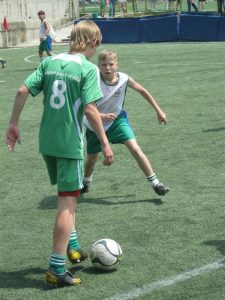 In April the orphanage's boys soccer team (named "Chance" – since they just wanted to be given the "chance" to play soccer) applied to participate in the local soccer competition. It took a lot of courage, nerve, and persistence to persuade the local sports administration to allow them to join the tournament because they had never before participated. Having convinced the administrators of the tournament that they were worthy competitors, they were allowed to take part in the competition.
Imagine the surprise when team "Chance" beat all of their opponents locally in Krasnoyarsk. Next, they boarded a train to take part in a regional competition in Novosibirsk and emerged as winners there as well! The next adventure was a momentous airplane trip to the Black Sea Coastal city of Sochi – which will be the Olympic Capital of 2014 – for a national competition among 17 teams from all over Russia. The trip and the competition were sponsored by one of the largest cell phone service providers in Russia, Megafon. Mind you, only 2 of the boys had ever been on a train, and none had ever flown on an airplane. In spite of their inexperience, Team "Chance" triumphed in Sochi, emerging as the champions of this national competition in their respective division. They proudly returned to Minusinsk from Sochi on May 25, 2010.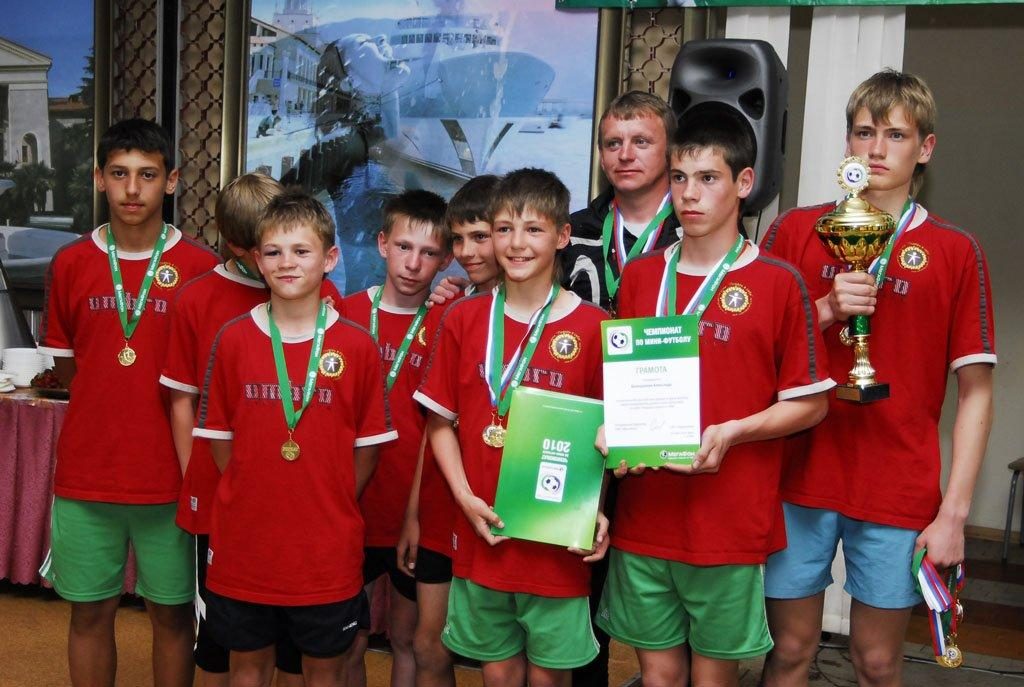 As a result, the boys of Team "Chance" along with their coach Sergei and a teacher from the orphanage traveled to London in December to watch London's famous Team Arsenal play at the Arsenal Stadium in London with a chance to meet and greet professional players. Their participation is being sponsored by the cell phone company "Megafon."
The orphanage director Ludmilla said that throughout these competitions and travels, they always thought of Socks For Siberia and the wonderful people from America who contributed to their victory by providing the simple gift of soccer equipment.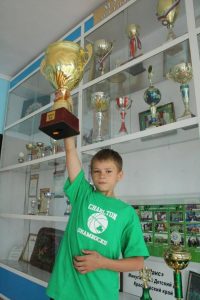 Wally and Michele have been working with orphaned children in Russia for twenty years and think of these children as "Grandchildren." The board of directors of SFS agreed that it is very important for us to be with Team Chance in London to congratulate and support them and help to tell their story and report it back to their many supporters here in America. Wally and Michele Connor along with board members Kathy Putch of Fort Myers, FL and her husband Joe; Melissa O'Connell of Houston, TX and her son Lincoln; Wally Hall of West Brookfield, MA, and Sergei Glukhov of Abakan, Khakassia, Russia (our volunteer Chief Translator and Services Coordinator in Siberia) traveled to London at their own expense and met with and congratulated Team Chance.
TO ALL OF OUR SUPPORTERS OF "SOCKS FOR SIBERIA" :
THANK YOU FOR YOUR CONTINUED SUPPORT!!!
WE ARE MAKING A DIFFERENCE!!!
AND WE COULDN'T MAKE A DIFFERENCE WITHOUT YOU!!!
PLEASE HELP SPREAD THIS HEARTWARMING STORY!!!!