A New Beginning
Over recent years, many children's stories have tugged at our heartstrings and led to the decision to broaden the outreach of SFS to include children here in our own nation as well as in other countries throughout the world.
That tug began to be felt in May 2011, when just before our annual Spring Family Festival, a powerful tornado ripped a gash through the towns of Sturbridge, Brimfield and on to Springfield, leaving many children and their families homeless. When we wanted to donate part of the proceeds from the festival to help, we were reminded of our mission statement … "to provide care and support for orphaned children in South Central Siberia." Then came hurricanes in Haiti and Puerto Rico, earthquakes in Nepal, famine in Africa and so on and on.
As time has gone on, we have seen the Russian government begin to provide more foster care to families for the orphaned children and the conditions in the remaining orphanages has continued to improve. The Socks For Siberia Board of Directors (BOD) and Volunteers have worked together to complete the process of formation of a new, more comprehensive organization which would better enable us to provide for the needs of children in more dire need, throughout the world as well as to continue the support where needed in south-central Siberia where our mission began.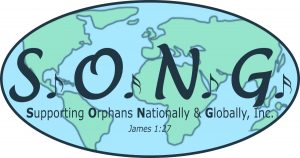 The SFS BOD members suggested and voted on a variety of possible names for the new organization and decided at last to choose "S.O.N.G., Inc. – Supporting Orphans Nationally and Globally" as the new name and mission for the charity. In addition to the current BOD, some new members were recruited who bring great skills to the table and new Articles of Incorporation were drafted. At a BOD meeting held on September 13, 2017, the articles were discussed, revised and ratified, the new board members were approved and the organizer of the first fundraising effort for S.O.N.G., Inc., Lincoln Kelly Allen of Houston, TX was mentioned and honored for his completion of a "Minecraft after school Club" during which participants paid a fee to gather together to play this popular game and share refreshments which Lincoln and his Mother, BOD member Melissa O'Connell provided. Thanks for your creative support Lincoln!
Since the process of changing over from SFS, Inc. to SONG, Inc. has begun, many opportunities have already presented themselves in the form of new contacts with awareness of needs in many places. We are committed to following the model of operation which has worked so well for these almost 20 years in order to maximize the benefit of your generous donations and we remain firm in our resolve to be an all-volunteer organization. We are incredibly appreciative of the people that are giving of their Time and Talents to partner with us in order to accomplish this mission – to Support Orphans Nationally and Globally.
You are Great and we are Grateful!