In 1989, Wally Connor traveled to the Khakassia region of south-central Siberia with a group of students from Valley View School in North Brookfield, Massachusetts. Russia was still under Soviet control at that time and this group was the first of its kind to visit the region. The translator for the group during their stay in Abakan was a woman named Natasha who had a 16-year-old son named Sergei. Her son was excited to spend time with these foreign boys close to his age and Sergei was later part of a group of Russian boys and adults who were invited to come to North Brookfield as an exchange visit. Sergei stayed with the Connor family for the three-week visit along with another boy, Kostya. The Connors fell in love with the enthusiastic young Sergei during their three-week visit and remained in contact with him and his family after his return to Siberia.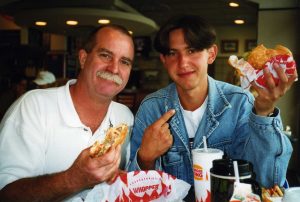 In 1996, after Sergei had completed a Bachelor's degree in Abakan, he returned to the United States to attain a Master's degree in teaching English as a Second Language at UMASS in Boston. After attempting to live in the city of Boston, but with no work visa, the decision was made for Sergei to live with the Connor family during his two years of study, commuting to Boston by bus two days a week for classes. He performed odd jobs for spending and saving money and was a tremendous help to the Connors on their small farm, pitching in like a member of the family. Sergei's girlfriend, Tatiana, came to visit him for two weeks during his first summer in the US. When his studies were completed, there were many who felt that Sergei should remain in the US and better his prospects, but his loyalty to his family, Tatiana and his country, made that impossible. The plans began for his return.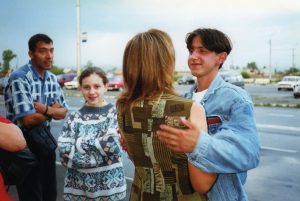 Sergei's family was very appreciative of the help given to him by the Connor family over his two years in graduate school and invited them to return with him and spend some time traveling in Russia to allow them to reciprocate for their kindness. During this trip in 1998, Sergei proposed marriage to Tatiana while he had "All of his parents" with him for support. She accepted his proposal and the wedding was planned for the following summer. It was during the Connors' trip to Abakan to attend their "son's" wedding that the seeds were sown for "Socks For Siberia."
On the day before they were to leave for Moscow and return to the United States, Michele and Wally took a walk with their friend Natasha to the store. While on this walk, they passed by a large building with a bare, dusty, fenced in yard in which some children were playing a game kicking rocks and sticks to each other. There were a dozen or so children in the yard, not very well dressed. Michele noticed these children and asked what the place was. Natasha explained that it was a "Dyetski Dom" or children's home, what we would call an orphanage in the United States. The children lived here for various reasons; some were truly orphaned with parents dead from alcoholism, AIDS or tuberculosis. Others were "social orphans," victims of the difficult economic situation in Russia after the fall of communism. Russia had no social programs to help families stay together, such as food stamps, welfare, or Aid For Dependent Children as we do in the US. Many parents are faced with the choice to hand their children over to the "Dyetski Dom," or watch them suffer from hunger. Many children in these homes have siblings who still are at home with the family, while they have been sent away for economic reasons.
The next day's plane ride from Moscow to New York was a long, emotional one. It was a "Baby Flight" with 12 Russian babies from the Moscow area traveling home to the United States with their new families. Michele cried quietly most of the 8-hour flight, grateful for the good fortune of these babies on the airplane, but sadly thinking of the children so far away in Siberia, who would only know the staff of the children's home as their family.  She and Wally resolved to do something to try to at least brighten the lives of these precious children in the town where their friends lived. Upon their return home to Brookfield, Michele contacted a friend who was a Girl Scout leader to enlist their help.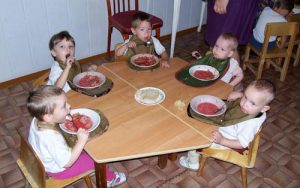 In November 1999, four boxes were shipped in time to make Christmas a little more special for the children. With the help of children at St. Mary's and the Brookfield Congregational Church, the Girl Scouts sewed small felt stockings which were filled with small toys, pencils, toothbrushes and toothpaste, crayons, and hair ties. Candy canes adorned each one of the ninety stockings which were packed with care into four large boxes and taken to mail. Many questioned whether the packages would ever make it, but Michele prayed over them all the way to the Brookfield Post Office, trusting that they would find their way to where they were needed most.
All four boxes did indeed arrive having been sent to Natasha, who lives close to the children's home, so that she could translate the best wishes sent by the children in Brookfield. Natasha, Sergei and his sister Jenya enjoyed the feeling of giving these gifts to their neighbors in need and took pictures of their visit with the children and the younger children at a local Maternity Hospital as they received their gifts. They sent these pictures back to share with the gracious people here in the US, that they might be a secondhand witness to the joy brought by four boxes of Christmas stockings.
In 2001, as they prepared for their next trip to Russia, the Connor's again enlisted the help of their friends and neighbors to kick off the "Socks For Siberia" project which gave rise to the name of this organization. Second-hand clothes and shoes are one thing, but the Connors wanted to provide the children with brand new undergarments. Over 600 pairs of socks, 450 pairs of underpants, 240 T-shirts and 55 pairs of pajamas were collected and boxed by the Brookfield Girl Scouts for shipment to the children in Siberia.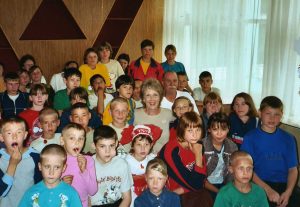 Since those first efforts, many Christmases have been brightened for children of Siberia by people they may never meet, but who have answered the call to help. The Connors make bi-annual visits with the children, bringing funds raised by their friends and neighbors and purchasing whatever was needed at the time, making no demands or conditions, simply performing an act of kindness. They have come to be called by the children "Dyeda Wally" and "Baba Michele" for Grandfather and Grandmother. Now, in the season of Easter, as they prepare for their fourth visit to the children in Khakassia, the Connors have realized a dream of incorporating their effort with the name "Socks For Siberia, Inc." in order enable them to make a greater impact for the orphaned children of south-central Siberia, a place and people they have come to know and love.
Thank you for your interest and your support of these beautiful children!